Introduction
Voice search marketing , in simple terms is optimizing your website so that voice assistants like Siri or Alexa can find it when consumers ask for a certain query.
A sample query may be something like, "Find hair salons near me," or "What's the capital of Wyoming?"
As stated previously, having your website in the voice search results takes some optimization, known as voice search SEO.
SEO for voice search overlaps with your traditional SEO strategy, so the incremental effort is typically quite low. If your website isn't following SEO best practices, the incremental effort will obviously be higher, and you should ensure SEO best practices have been implemented prior to tackling Voice Search optimizations.
The following list are great place start your optimization of Voice Search.
5 Voice Search Marketing Best Practices
1. WRITE LIKE A PERSON
Begin by thinking about how you phrase things when you interact with a virtual assistant.
Your website needs to use conversational language in order to contend for the top voice search spots. So when you're looking up voice search keywords, try to stick with ones that sound like a human would say them.
By way of example, if you wanted to know the square root of 81, you would say something like "What's the square root of 81" as opposed to "81 square root".
2. AIM FOR THE TOP (WITH YOUR RANKINGS)
In general, clinching the top spot in the search results, or being in the top, yields the greatest volume of conversions for your website. You'll garner strong web traffic and boost leads and sales if your site is optimized for SEO.
The same principles are true of voice search marketing. About 41% of voice search results use answers from a featured snippet.
A featured snippet, also known as position zero, appears for some searches as a large box at the top of the search results with a page's title and an answer pulled from that page directly addressing the search query.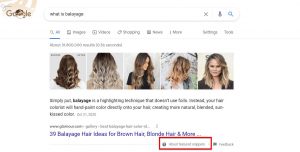 You can optimize for featured snippets in a few ways, namely by:
Formatting sections of your website with questions and answers
Creating a list of items that relate to a search query
Creating a table with comparison data
So, for example, if you run a college prep business and want to explain the difference between public and private loans, you might want to use the heading, "What are the differences between public and
Google is also advancing it's machine learning when it comes to how it processes language, so making it easy for people to get answers can help you with voice search SEO and regular SEO.
3. MAINTAIN UP TO DATE CONTACT INFORMATION
If you don't have updated—or any—contact information online, you're missing out on the "near me" and other local voice search results.
When people use voice search keywords focused on finding businesses close to them, the results typically include a business's name and contact information.
Make sure your business profile is updated anywhere people can search for you, like Google, Bing, and Apple Maps.
4. PROMOTE YOUR CONTENT
A study from Backlinko notes that voice search results typically get a lot of attention on social media. So if you've optimized a page for voice search, think about sharing it on social media.
The more people who see your content through social media, the more likely it is they'll spend time on your website and even possibly link to your website with theirs. If Google sees people linking to your website and more people clicking on your search result, it can help you rank higher.
5. GET TO THE POINT
According to that same Backlinko study referenced above, the typical Google voice search result is only 29 words. Be direct if you want to optimize voice search SEO. Save consumers time and frustration and answer their questions succinctly.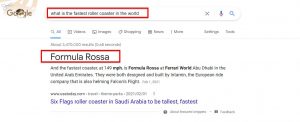 As voice search continues its adoption in our day to day lives, optimizing your website to capitalize on this behavior is yet another tactic to ensure your website is relevant to consumer search references and optimized for growth in traffic and conversion.