Have you ever had an immediate pleasant feeling when browsing an online store? The feeling of familiarity (from a well-designed user experience); the feeling of pleasure and accomplishment (from an appealing user interface); the feeling that your business is valued when you're offered free shipping and gift wrapping.
It's easy to distinguish a poor online experience from a quality one: but what makes successful ecommerce successful?
In this white paper, we highlight several ecommerce best practices that will enhance customer satisfaction, maximize engagement and improve sales conversion.
User Interface Tips
Beautiful and Appealing Images
Images and text are what the internet is made of. We rely almost completely on visual senses when we navigate webpages. Marketing specialists agree that images are powerful tools to engage viewers. According to internet marketologist Jeff Bullas, 67% of
online shoppers admit that images of a product are more important than customer reviews or product information. That's why it's important to choose the most appealing and attractive images that will grab your customer's attention.
To ensure the best quality of pictures, stick to your brand style guidleines and leverage professional photo shoots instead of relying on stock images. For example, beverage brand Zevia successfully marketed their brand on Instagram with beautifully arranged images featuring pastel hues, a consistent style that makes Zevia's account instantly recognizable.
Effective Product Demos
While you can take stunning product images, they might not have much impact on customer's buying decisions. In an effort to stand out, some ecommerce stores go beyond classic marketing images. World-famous shoe store Zappos was one of the first to leverage video reviews of their goods. Back in 2009, Zappos proved that this was a winning strategy: Zappos-produced review videos brought anywhere from a 6 to 30% increase in sales. Interestingly, these videos feature Zappos staff instead of hired actors.
After all, who can speak better about the goods you're selling than people who work directly with them?
If you've ever shopped for a bag online, you've probably been concerned about what will actually fit in the bag. Product dimensions are useful, but what customers really want to know is whether their iPad will fit. Rebecca Minkoff's website lets you virtually place items in a bag – iPhone, iPad, Vogue magazine, a bottle of water – by simply dragging them to a handbag.
Besides demonstrating the main product, it can also be effective to show off a product's packaging and any additional components or accessories that might be included. The trick is: the more details you show, the better feel a customer gets for what it will be like to own a product – and the more likely they are to buy it. On Michael Kors' website, customers not only can view wristwatches from all angles, but can also see the packaging and additional accessories. This is effective way to increase sales since people often buy wristwatches as a gift, and thus they want to see what the watch will look like when the present comes out of the box.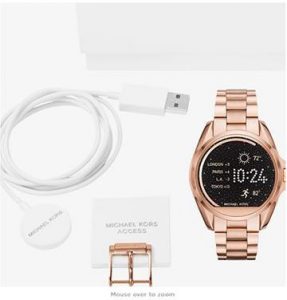 Personalize the User Experience
The Power of Breadcrumbs
On modern websites, 'breadcrumbs' show the path from a website's main page (as a rule) to the current page. Why are breadcrumbs important? First, breadcrumbs allow users to go back to the landing page with a single click. Second, breadcrumbs are proven to reduce bounce rate. Breadcrumbs make it easy to go back to main product categories and move easily through large catalogs.
Extended Navigation Bar
Navigation bars generally show the main product categories. Some stores take a minimalistic approach – for example, apparel retailers often place "Men," "Women," and "Kids" sections in the navigation bar. However, stores like Net-A-Porter prefer to include a wider range of categories including "Designers," "Clothing," "Shoes," "Bags," "Accessories," "Jewelry," "Lingerie," "Gifts," and "Beauty."

Variety of Filters
Filters help website visitors find goods they're looking for in a matter of seconds. To provide the best shopping experience for your customers, optimize for the types of goods and service you offer. For instance, if you sell clothing and shoes, it will likely be effective to filter by brand, size, color, and occasion.
The American retailer of discounted shoes, accessories and clothes 6pm.com offers advanced filtering options within each product category. For example, when shopping for bags, you can filter by color, brand, price (for example, $50 and under), materials (leather or suede), bottom width, product compatibility (with common gadgets like iPhones and tablets), strap and handle style (adjustable strap or chain), closures (zipper or magnetic), special features (lightweight or vegan-friendly), themes, and even accents (bags with logos or fringes).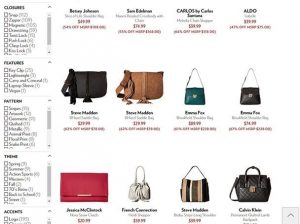 The luxury retailer Shopbop allows you to create your own boutique by selecting your
favorite designers and filtering all available products by the "My Designers" option. This feature saves time by showing only merchandise by your preferred designers.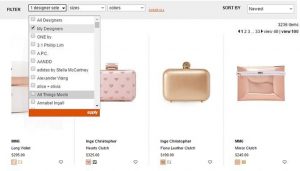 Personalize Communication
Describe Your Products Like a Person, not a Machine
Let's imagine an average website that sells gadgets. As a rule, technology retail websites offer detailed descriptions of products including metrics with such units as inches, amperes, and decibeles. But technology is becoming more complex, and the number of brands is growing accordingly. All told, a detailed list of technical specifications doesn't tell you much about how one phone differs from its direct competitors. To solve this issue, you can adopt Amazon's practices and describe a product like you're talking to your friends or parents.
Amazon's team, when marketing their own products, starts by telling what you can do with their e-book reader, for instance. They point out that you can read books, join popular communities, watch movies (they include a list of supported streaming services), and play games. Amazon prefers to tell the customer first how they can use their product – and how convenient it is – before bothering with any technical specifications, which are included at the very bottom of the page.
If you're selling a powerbank, for instance, it may be better first to say how many charges it provides or how many hours a particular device can run with your power bank instead of focusing on 'amperes,' which mean little to the average consumer.
Show Viewing History
Amazon and Netflix are often credited with offering the most effective personalized experiences. Today, companies struggle to produce and deliver relevant content for their customers. The idea of suggesting products that go well with the item you've just purchased ("Customers who bought this item also bought") isn't new. However, Amazon and Netflix have enhanced this idea and started to display goods that will potentially engage the customer.
For example, Amazon tracks your browsing history and suggest items from the same brand as you've viewed. Moreover, they make it easy to browse items you might be
interested in their "Inspired by your shopping trends" block. Amazon welcomes customers to their site with a personalized selection of goods.

"Inspired by your browsing history" shows goods by brands you've searched before

Netflix offers another example of successful personalization. In the sphere of streaming services, it's important to adjust your content for different age groups and interests.
Netflix solves this issue by asking you select movies and TV series you like so they can offer content that better suits your taste. And to protect kids from watching inappropriate content, they let you select a Kids channel that streams only approved materials.
Enable Customer Reviews
Let's face it: people's opinions drive sales. According to research conducted by Brightlocal, 91 percent of 18-34 year old consumers trust online reviews as much as personal recommendations. Indeed, many vacations start with checking reviews on TripAdvisor; movie nights starts with browsing IMDb for a well-rated film; girls look to MakeupAlley before buying their cosmetics.
By leveraging customer reviews, you can build trust and loyalty. Also, it's good idea to allow reviews to be immediately posted to your website without moderation.This shows your customers that you're honest with your buyers and don't hide anything.
And don't be afraid of negative comments, as they can also build your reputation by demonstrating that your business is transparent.
Goodies Your Customers Will Love
Free Shipping
Online shopping is obviously convenient and saves time, but in the end we need to deal with real-world goods, and shipping is a primary concern.
The UPS Pulse of the online Shopper Research reveals that, in 2019 customers are demanding when it comes to shipping options. After surveying 18,000 consumers in 10 languages across 15 countries, researchers found that aside from price, 36 percent of shoppers are ready to buy from a specific brand or retailer if they offer low delivery costs. A National Retail Federation research showed that 75 percent of customers surveyed expect delivery to be free even on orders under $50.
Moreover, marketers acknowledge that people abandon shopping carts because of shipping rates that are only displayed at the final stage of the checkout process. To please your customers, you can include shipping in the price of your products. Even though the final price will go up slightly, customers feel better about not paying additional costs at the checkout.
Additionally, you can offer multiple shipping options including extra-fast delivery at additional cost or even a number of delivery options that take up to a week, as Walmart does.
If you're lucky enough to have a brick-and-mortar store, you can even offer in-store pickup to make deliveries even more flexible.
Finally, an effective way to increase the average order value is by offering free shipping for purchases over a specific cost: according to the National Retail Federation report, 65 percent of surveyed customers look up free-shipping thresholds before adding items to their online shopping carts.
Payment Solutions for Customer Convenience
Customers can be encouraged to shop more frequently thanks to mobile payments, simplified checkouts, and guest checkout options that don't require you to register. In the world of mobile payments, Apple Pay allows customers to securely and quickly pay for goods and services not only in offline stores, but on the web as well. Their partners include Airbnb, Etsy, and Uber. According to Statista, the annual transaction value of the next-generation payment technology market worldwide will raise from $6.1 billion in 2019 to almost $14 billion in 2022.
Packaging
Customers' decisions are primarily emotional. A smith.co study detected eight emotion types that influence our behavior while online shopping, underscoring the fact that emotions are key to our shopping decisions. In order to trigger their customers' emotions, retailers come up with ideas to stand out from the crowd – and one they set themselves apart is with packaging.
Packaging is especially effective for luxury retail businesses where stores offer mostly the same brands and designers. One of the first stores which adopted this idea is Net-a-Porter. Signature packaging is a great idea for customers who are shopping for gifts(and luxury items are often purchased as gifts). What's important is that packaging is offered for free; probably, Net-a-Porter includes the price of packaging in the cost of their products, since their prices on average are higher than prices on similar websites. Customers are attracted by beautifully crafted boxes that bring the feeling of uniqueness and belonging.
Besides packaging, internet shops like Net-a-Porter, Shopbop and Bath and Body Works offer gift messages with orders. Altogether, packaging and gift messages are great ways to encourage customers to shop at your store.
Free Samples
There's probably no better way to show your generosity than by including a few free samples with each order. Whether you sell cosmetics or food, you can reap benefits by offering samples of your products. First, samples allow your clients to get to know your range of goods. Second, you can strengthen your clients' loyalty with a show of generosity. Finally, you can create a desire for reciprocity: customers may be willing to buy more in order to 'give back' after receiving free goods.
French cosmetics giant Sephora successfully uses samples to attract and retain customers. They even let their customers select three items to sample – instead of getting a random selection among 50+ creams. Samples that are actively chosen by the customer are more likely to be used and more likely to lead to further sales. This is a brilliant example of how personalization and customer care can improve customer loyalty.
Apply Reward Programs
Loyalty programs
Customer loyalty indicates a customer's willingness to patronize a brand repeatedly. Loyalty is a result of positive customer experiences, and the value the customer gets from each transaction. New customers don't become repeat customers automatically, which is why you should try a customer loyalty program. Before considering your own ecommerce loyalty program, ask yourself what benefit it will provide and what will motivate people to sign up.
Ecommerce loyalty programs increase customer lifetime value, decrease acquisition costs, and build a true growth asset in the form of recurring revenue. With the right customer loyalty program, your customers will keep coming back to purchase from you and perhaps turn into brand loyalists. A good loyalty program is not just about giving stuff away to repeat customers; rather, it's a channel to strengthen customer relationships.
For example, you can apply a point-based program like Walgreens did. Walgreens offers 40,000 points for every $50 a customer spends on beauty products. These points can then be redeemed for discounts on future purchases. Just keep your system simple so it's easy for customers to determine the value of their points.
There are also hybrid loyalty programs that combine more than one type of loyalty system.
You can use two different systems, such as a point-based system with a tier system that offers different rewards depending on which tier a customer is in. This type of hybrid program can make it easy for customers to calculate their points and encourage them to pursue the next loyalty level – and thus purchase more. For example, Walmart has launched a hybrid loyalty program in partnership with Murphy USA gas stations, Neighborhood Market, Sam's Club, and MasterCard. Members of this loyalty program get discounts on products, including gas, and get monthly rewards based on how much they've spent and which products they've bought. A hint: don't combine too many different systems, as it will confuse your customers.
Referral programs
Referral programs are consistently rated as one of the most powerful forms of marketing. Customer referral programs are one of the most effective ways to connect with new customers and get your existing customers to buy from you again. A referral program can also increase the loyalty of your existing customers by getting them to invest more in your brand. The main benefit of these programs is that referral marketing is targeted because people tend to know their friends and social audiences pretty well. This is exactly where trust plays a role. With referral marketing, sales usually come from someone that people either know well, like friends or family, or from someone people trust, such as a favorite blogger. This allows your brand message to spread more effectively than with most other marketing channels.
For example, the Evernote referral program gives your friends Premium account access and gives you points that you can use toward Premium access or increased monthly uploads. You can also implement a double-sided referral program like Airbnb did.
Their program offers $25 to both the referrer and referee when an invited friend books their first trip. A double-sided referral program brings value to both parties when they participate in the offer.
Cooperate with influencers
Influencer marketing is a great strategy that you can use to get more traffic and sales for your eсommerce business. It turns out that people trust not only friends but also ordinary influencers (not celebrities) who do reviews, since they've built up credibility.
An influencer is any individual who has a large following. An influencer's audience loves and trusts them. So when an influencer makes a product recommendation, their audience listens and buys that product. Influencers within your niche can be a goldmine of referral traffic and sales. The key is to find influencers whose followers are as close to your target market as possible.
For example, Good Greens, a nutrition bar company, had a goal to create healthy bars that also taste good. As a startup, they didn't have the budget for a major marketing campaign. So instead of traditional advertising, they reached out to influential local micro-bloggers and developed relationships with them. They gave the bloggers free samples of their nutrition bars and asked them to consider writing about the bars on their blogs. Local blogs clearly described what they loved about Good Greens nutrition bars. The bloggers also told their readers about the contents of the snacks and how healthy they are.
As a result of the campaign, the Good Greens website draw 2,000+ visitors a month and increased their sales average by 50 percent in just four months.
Wrapping up
Ecommerce is challenging. The only way to become successful and keep acquiring and retaining customers is to keep up with the latest marketing and technology trends. But no matter what business strategy you choose, remember to stay close to your customers and personalize the shopping experience.